Night & Day in the Secret AZ Border Location
January 27, 2022
I discovered one of my favorite places in the Southwest though a spontaneous comment by my photo buddy Josh Mitchell. After picking him up in San Diego we headed east on one of our joint photo adventures and Josh turned to me and revealed we were kinda close to Mexico and there was this lonesome road from Gila Bend, AZ all the way down to the border into Mexico - did I want to go? This was way back in those ancient times when the ultimate guide to the area was the AAA Indian Country Guide Map. Sure enough there was a road to the border and down into the little coastal town of Puerto Penasco also known as Rocky Point, on the northern edge of the Gulf of California.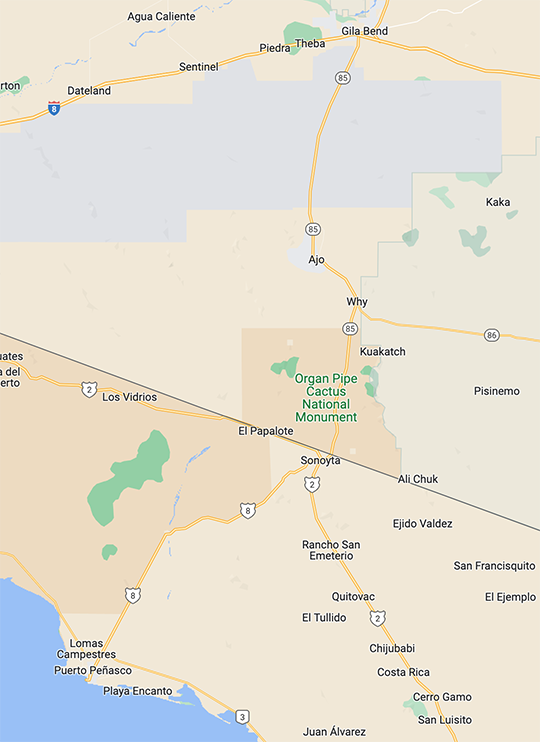 This road is through one of the most lonesome desert regions so empty the Air Force uses a section as a live fire and bombing range! This is followed by Ajo and Why, towns as small as their names, and just beyond I discovered the hidden gem of the Organ Pipe Cactus National Monument.

Like most people heading through the park we were on a mission to make it as fast as possible down to Baja. Unlike most I noticed we were driving through fields of backlit saguaro cactus with hillsides as a background. I later learned these saguaro are much older and taller than the ones you can see in Saguaro National Park on the east and westside of Tucson, AZ. These cactus are in a flatter area and it is difficult to get a similar background to provide backlighting on the needles. If you really want great photos of the classic western icon saguaro cactus - Organ Pipe is the place to go.
Josh and I had our Mexico experience drinking margaritas while eating ceviche. Then we blasted back through the park on other adventures. I logged it into my memory bank to return one day. We returned years later in a car and ended up in a cheap motel in Ajo, but recently I returned in a more stylish and convenient way in my adventure van using this as a combination photo and camping vehicle.

This trip was with another friend Glen Allison who was hot on learning to shoot landscape astro photography and Organ Pipe was a prime winter location. The idea is to find an inspiring location while including a nighttime sky of stars or the Milky Way galaxy. We spent much of the day scouting for the best pair of cactus on the Ajo Mountain Drive with a background looking north including the Polaris star. We returned not once - but twice to capture the scene with the swirling stars.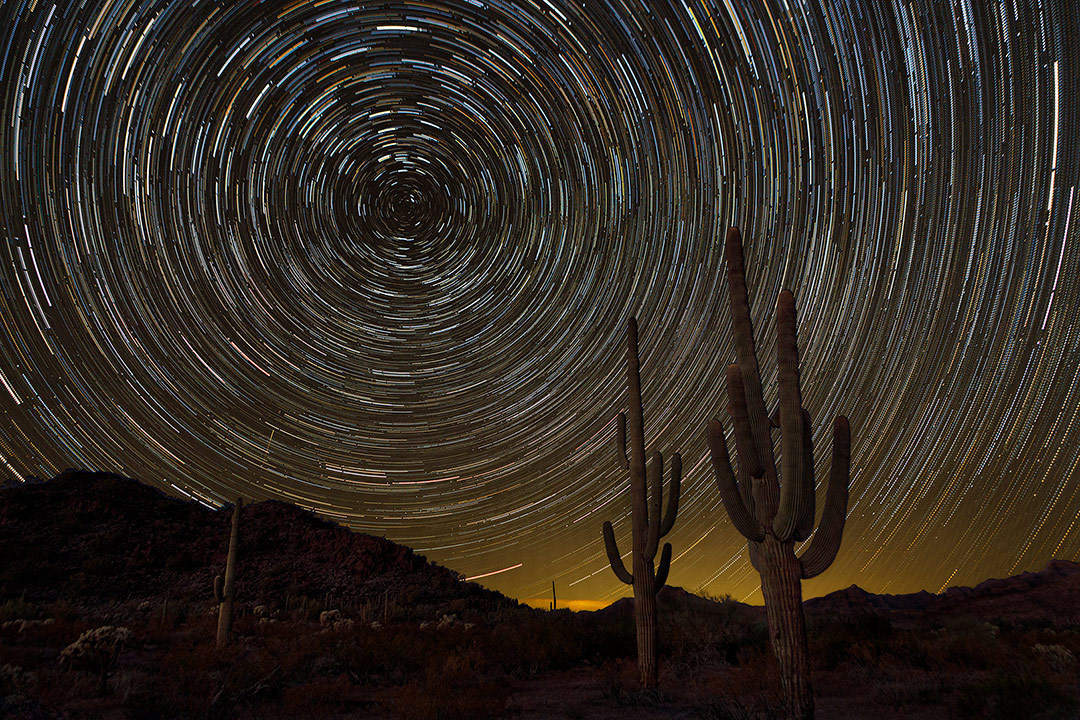 Glen was on a mission to master this nighttime shooting, but I couldn't resist all of the other beauty that I was seeing including this set of saguaro cactus adjacent to our nighttime shooting location. The puffy white clouds were great for this sunset shot but it meant the clouds obscured our star field later in the evening.
After double checking every other cactus on the drive we returned to our original star swirl location and I still couldn't resist shooting the sunset behind the same cacti pair.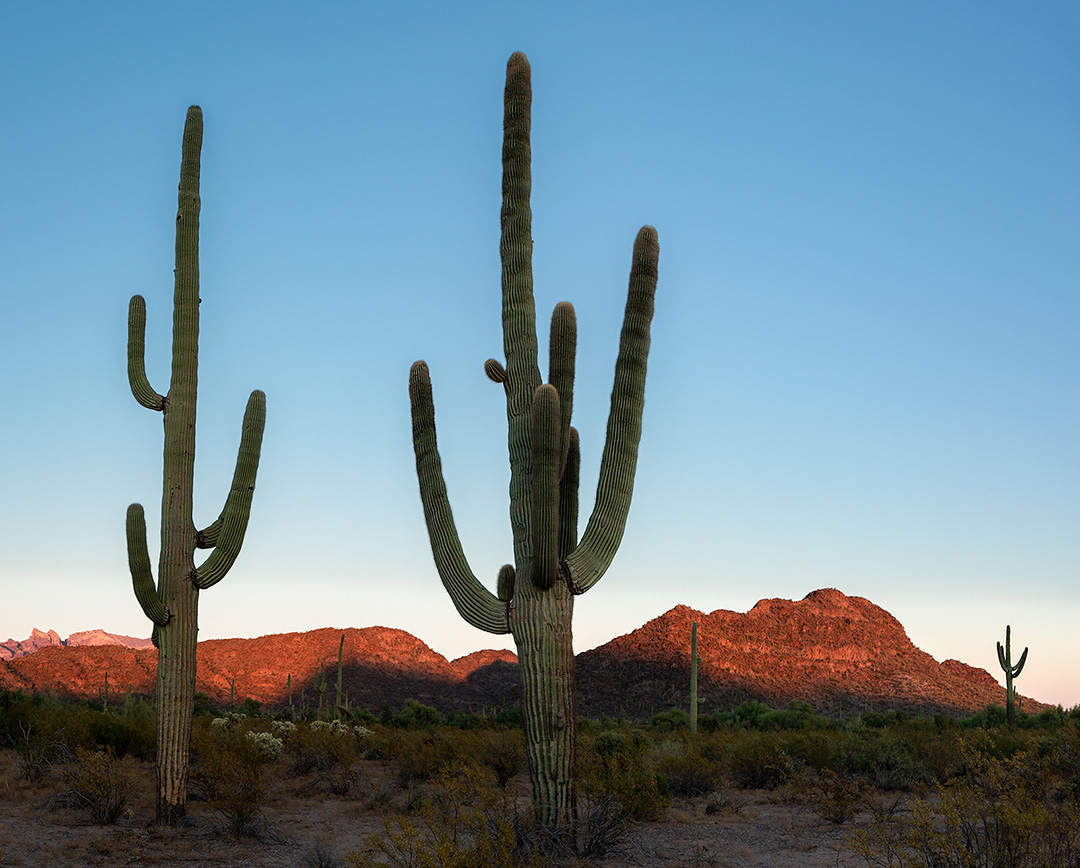 There are actually fewer organ pipe cactus than saguaro cactus in the park, but the saguaro already have their own park. This is the northern extreme of the organ pipes range and it is the only place in the US to view large stands of the species. I happen to be attracted to cactus that are in their decaying state and here is a dead organ pipe in between two young saguaros.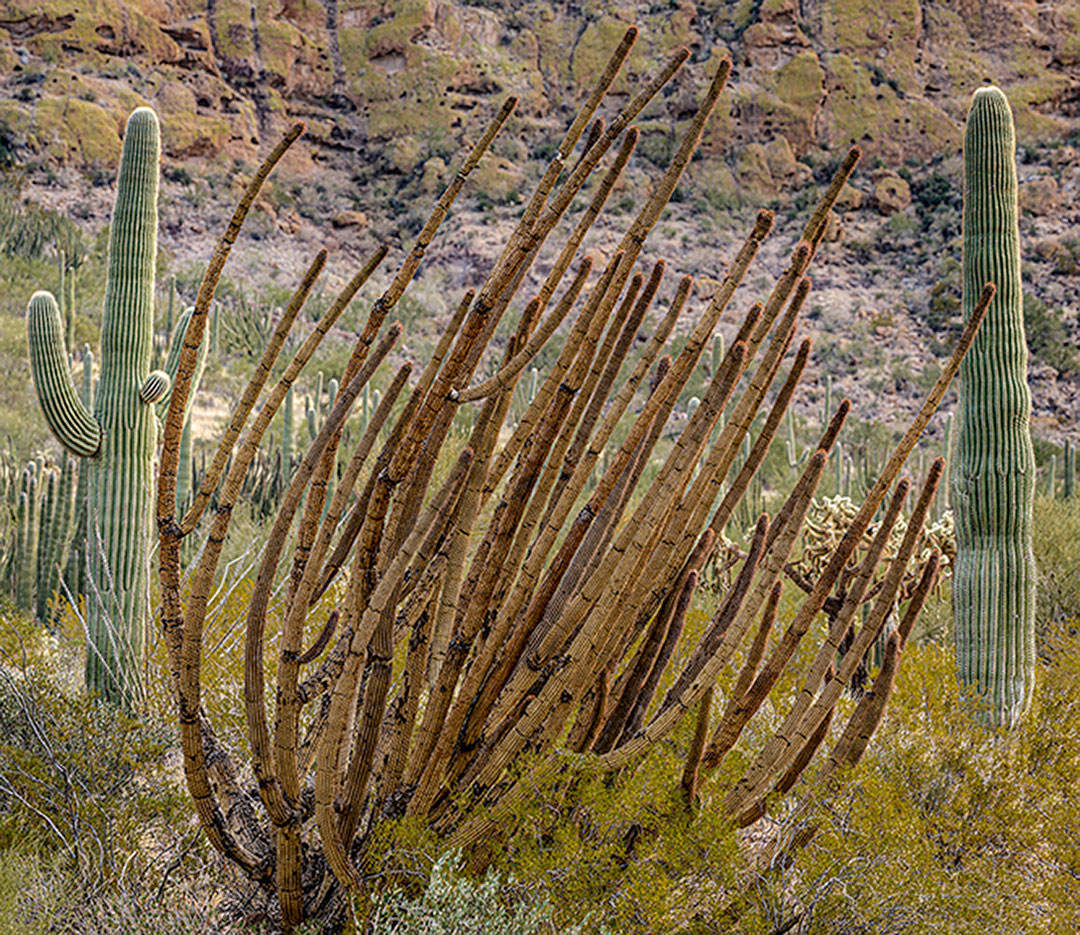 The beauty of having a small adventure van is the ability to sleep in the park campground and easily drive off and go in the morning to use it as a shooting platform. The campground in the Monument has parking spaces nestled in between a healthy collection of cacti. Right behind our campsite was this organ pipe that looked increadable lit using my van's tail lights.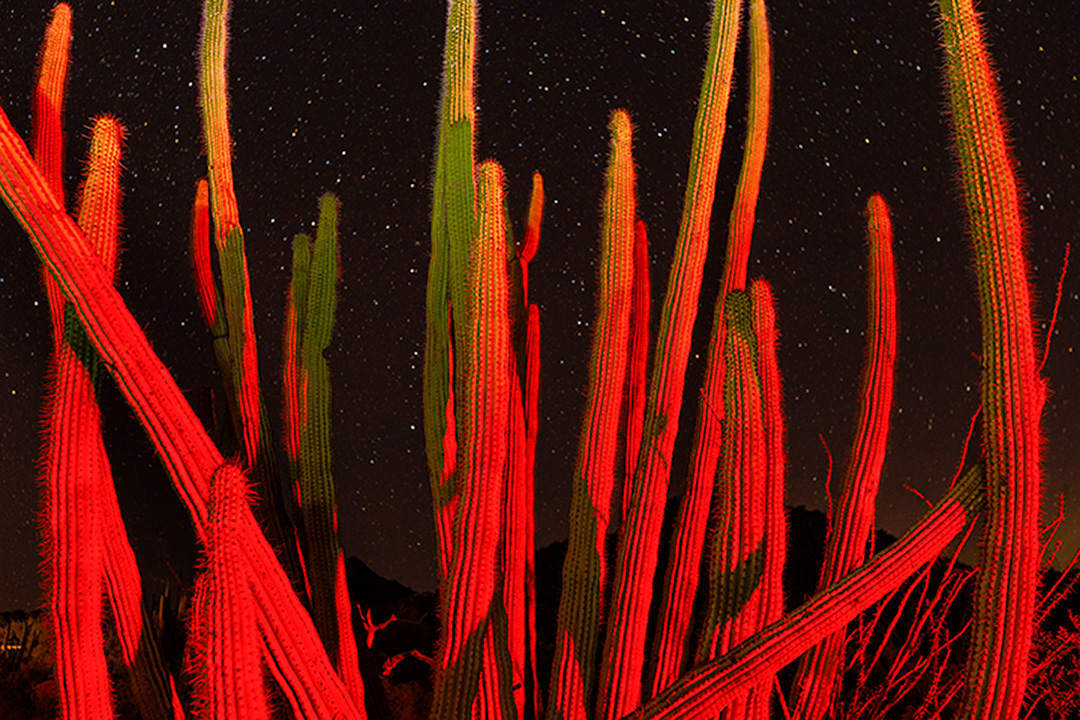 I have yet to return to Rocky Point, yet I continue to be drawn to the beauty of Organ Pipe. Many people never make it down here because it is so far away from other parks. Being on the border also means you will see many US Border Patrol agents. You may also have an opportunity to view the border wall up close. Depending on your viewpoint this is either a big beautiful wall or an environmental scar across the desert. You can even add-on a quick trip down to Mexico while now viewing the route on your smartphone using Google maps.